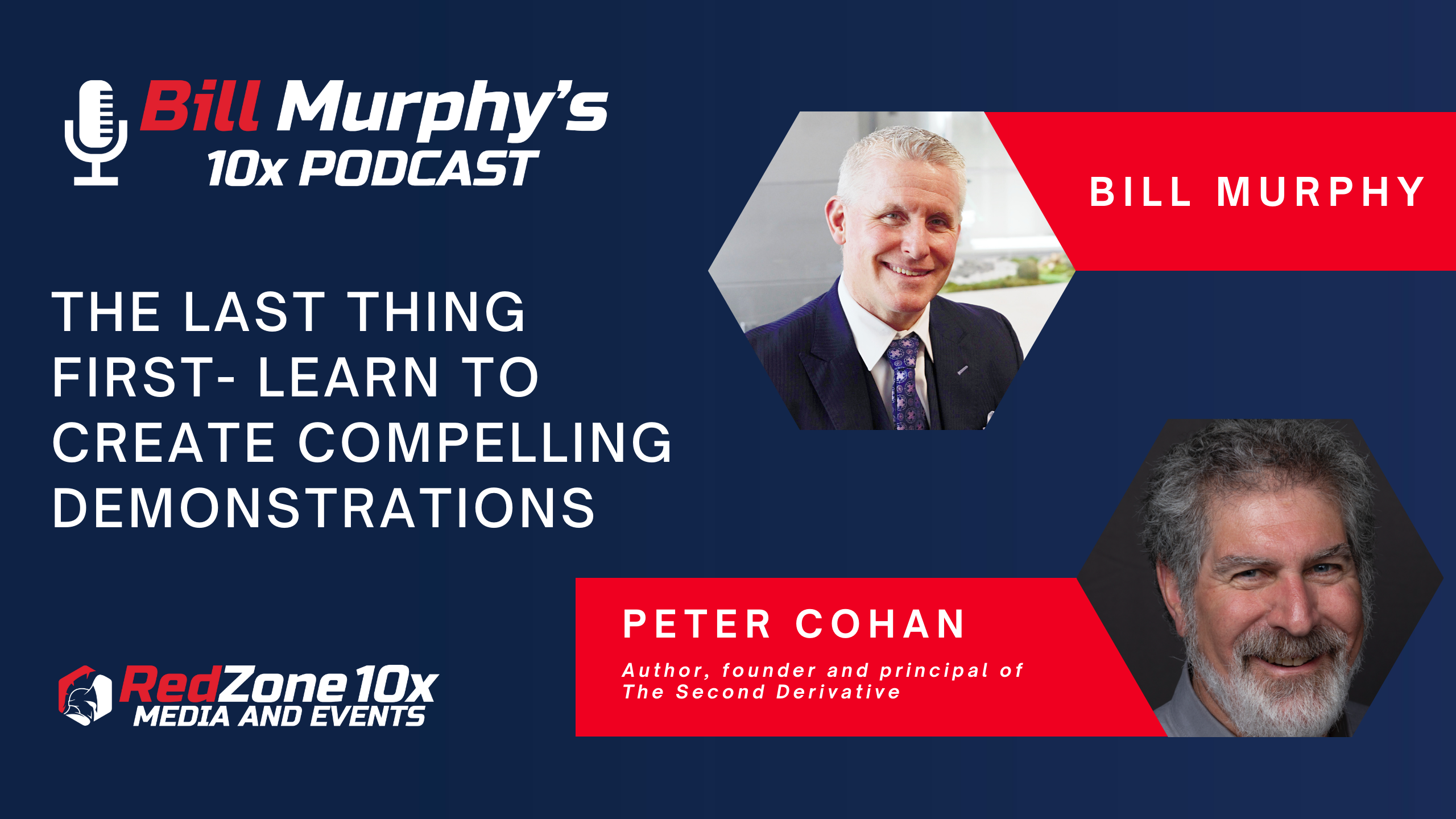 Welcome Back to Bill Murphy's 10x Podcast. Our guest in this episode is Peter Cohan, founder and principal of The Second Derivative, author of "Great Demo!" and a savant in the sales world.  
Additionally, Peter serves on the Board of Directors for Collaborative Drug Discovery, Inc., is an advisor to IN2SV, Inc., holds a degree in chemistry, and is a mentor to StartX, the Stanford University start-up accelerator. 
Peter has vast experience working with senior management in marketing, sales, and business development. and has learned to discover and understand the needs of a customer. Peter's mission is to advise organizations on the ways they can better improve their sales and marketing results through creating and executing compelling demonstrations.  
In this episode, he shares with listeners his best-known method, the "Last Thing First," which teaches you to "turn the demo upside down" and start with the end-result first. 
You do not have to be in sales to benefit from Peter's methods, his principles prove valuable to many parts of an organization 
Peter hopes to inspire you to constantly seek ways to improve upon your skills and practices. 
Show your customers the possibilities that will benefit the future of their business and an end- result that cannot be refused. 
Tune in to learn more.
As a CIO and Business IT Leader here are some wins you will get by listening: 
4:00 There are two roles of an IT Leader: offense and defense. The defense protects the kingdom, keeps the lights on, and ensures the users are happy. The offense helps put points on the board and supports sales.
5:00 Modern IT leaders can support sales in the future by providing subject matter expertise to the sales team, enabling a demo environment, and seeking to understand where the organization needs to go and what can be done to help by providing tools and services.

 

6:30 The key success factor in the pre-sales process is having a structured way of communicating information.

 

6:40 "The Great Demo" introduces a structure called the situation slide, which is used to recommunicate key pieces of information to deliver a credible demo. 

 

8:00 Before you call a prospect, have a conversation with the vendor and ask: What is our objective for this demo? What do we know about this prospect? What do you want me to present in this demo? What do you

not

want me to present in this demo?

 

10:00 The key element in creating any demo is understanding what specific capabilities a prospect

needs

to see versus everything else that is in your offering. 

 

11:30 Find sales representatives who are highly respected and use those people as your models to learn their best practices.

 

12:00 Successful sales reps execute the most important part of the sales process: sufficient discovery of the customer's needs followed by communicating those discoveries with the team.

 

18:30 Vision generation demos spark interest and highlight what is possible.

 

20:30 Lead with pictures of graphs, reports, and dashboards to present complex ideas in a straightforward way. Do not bury people in complexity. 

 

23:30 The goal of a demo is to show your customer a "menu" of your offerings. If you are offering several different modules, utilize vision generation. 

 

27:00 In a demo, do not show a prospect a boring boat. Show them that it is a battleship driving through the heavy seas. This is the result a prospect is looking for.

 

28:00 The higher you go in an organization, the less they care about the process and more just the end-result. Turn the demo upside down and do that last thing first. 

 

32:30 A successful salesperson is interested in continually improving his or her process.
Resources:  
LessIsMore.com (For PowerPoint Presentations)  
Love this episode? Leave a Review 
Share it on your LinkedIn feed.
If you haven't already, please make sure you leave us a review on iTunes.
About Bill Murphy
Bill Murphy is a world-renowned IT Security Expert dedicated to your success as an IT business leader. 
Connect With Us On Social Media
Connect with Bill on LinkedIn.
Instagram
Twitter
Facebook
Subscribe To Bill Murphy's RedZone Podcast