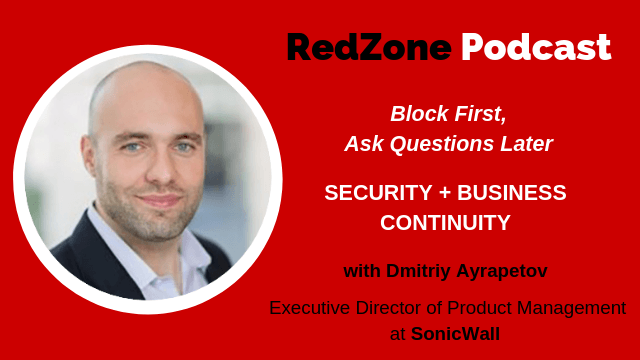 If you enjoy listening to my podcast, please take a minute to leave a review here!
As many of you know, I like to choose podcast topics that are at the forefront in the minds of my audience. I also like to interview leaders who inspire me. When I was looking for a new podcast guest for my show, I asked my CTO at RedZone, James Crifasi, if there was someone he knew in security that he really respected – that stood out for him as a leader in the industry.
James recommended Dmitriy Ayrapetov, Executive Director of Product Management at SonicWall. Since RedZone has been a SonicWall partner for many years, I knew Dmitriy, and I knew that he represented most of the network security products that we work with. Luckily, he agreed to come on the show.
My conversation with Dmitriy ranges from philosophical to tactical and technical especially with his positions on Machine Learning and AI with security. We discuss a variety of topics including, who are his mentors and what does a product manager do at a high-profile security company like SonicWall?
One interesting discussion centered around the thought that, "Humans will always make mistakes – human mistakes are one of the main issues with security. Knowing that we will never fix 100% of the problems of security today, and that we have a massive likelihood of a security breach happening," – I asked Dmitriy "How can you approach this problem?"
Key Points of Interest in This Episode:
How Dmitriy researches and keeps on the pulse of security
How his mind works when he is thinking of how his customers will be impacted by security
Who are his mentors?
What would he focus on if he was a startup founder?
How would I want to react if I was a customer?
Are your security vendors as concerned about business continuity as you are?
I think you will really appreciate Dmitriy's philosophy for CIOs and CISOs – in particular, his thoughts on human mistakes. He believes that since human mistakes can't be prevented, that you must realize the need for continuity of the business and be prepared for them.
With this, I want to welcome you to my interview with Dmitriy Ayrapetov.
Download the Full Transcript>>
Major Take-Aways From This Episode:
In this podcast we discuss cutting edge strategies with security: sandboxing, block until verdict, remediation and roll back.
What does a product manager do at a high-profile security company like SonicWall?
o Find people's problems and bring these engineered solutions to market
Evolution of Security – Block first, then ask questions later.
Staying current with security is imperative with a current approach centered on business continuation.
New ways of thinking – Prevention vs. Continuity, continuous operations like auto-rollback functions.
Supply Chain Attacks – Next Gen behavior analytics which led us into an industry education on old fashioned heuristics vs. machine learning and AI.
About Dmitriy Ayrapetov:
Dmitriy Ayrapetov has been with SonicWall for over 13 years. He is currently the Executive Director of Product Management at SonicWall, in charge of product security. Prior to this position, Dmitriy held product management and engineering roles at SonicWall and at enKoo Inc., an SSL VPN startup acquired by SonicWall in 2005.
As a cybersecurity expert, he speaks at industry conferences including, RSA, Gartner Security Summit, Dell World and is a regular presence at SonicWall's annual partner conference Peak Performance. Dmitriy holds an MBA from the Haas School of Business at U.C. Berkeley and a BA in Cognitive Science at UC Berkeley.
You can see all the SonicWall products Dmitriy has had his hand on since the beginning.
• Network Security
• Firewalls
• FTDMI – Automation and Security
• SonicWall ips Series
• Client Capture – rollback
• Email Security
How to get in touch with Dmitriy Ayrapetov
Key Resources + Links
Link to Dmitriy's SonicWall blog page:  https://blog.sonicwall.com/authors/dmitriy-ayrapetov/
• Blog, pub. 9/12/2018: Botnets Targeting Obsolete Software
• Blog, pub. 2/13/2017: Practical Defense for Cyber Attacks + Lessons from 2017 SonicWall Annual Threat Report
Other SonicWall blog pages that cover suggested topics of discussion listed above:
• Sonic Wall Threat Intelligence blog page: https://blog.sonicwall.com/categories/threat-intelligence/
• Annual and mid-year cyber threat reports: https://brandfolder.com/s/pix4u8-fllsa0-f5587c
Other presentations and videos by Dmitriy Ayrapetov:
Other resources mentioned in the Podcast, provided by Dmitriy Ayrapetov:
There are two people that Dmitriy mentioned as thought leaders in the field: one of them is well known, Bruce Schneier, an internationally renowned security technologist; while the other is less known, Dan Geer, CISO at In-Q-Tel. Bruce provides a lot of industry as well as practical advice on his website: https://www.schneier.com/. Dan's keynote at Black Hat 2014 was, in my opinion, direction setting. It was one of the highest signal to noise ratio keynotes that I've ever heard and I still come back to it from time to time. It's very dense, and is based on an essay that he authored.
The book that Dmitriy mentioned early in the podcast is Hacking Exposed –they're on the 7th edition now. I'm not "recommending" the book, I just referenced it as something that piqued my curiosity in security early on.
This episode is sponsored by the CIO Scoreboard, a powerful tool that helps you communicate the status of your IT Security program visually in just a few minutes.
Love this episode? Leave a Review 
Share it on your LinkedIn feed.
If you haven't already, please make sure you leave us a review on iTunes.
About Bill Murphy
Bill Murphy is a world-renowned IT Security Expert dedicated to your success as an IT business leader. 
Connect With Us On Social Media
Connect with Bill on LinkedIn.
Instagram
Twitter
Facebook
Join The CIO Innovation Mastermind Community
We invite the top 20% of Business IT Leaders for my CIO Innovation Mastermind Events group to participate in monthly discussions on things like VR, AI, and other disruptive & emerging technologies. If you want to become a member, email Chief of Staff, Jamie Luber Jluber@redzonetech.net for more information.
Subscribe To Bill Murphy's RedZone Podcast