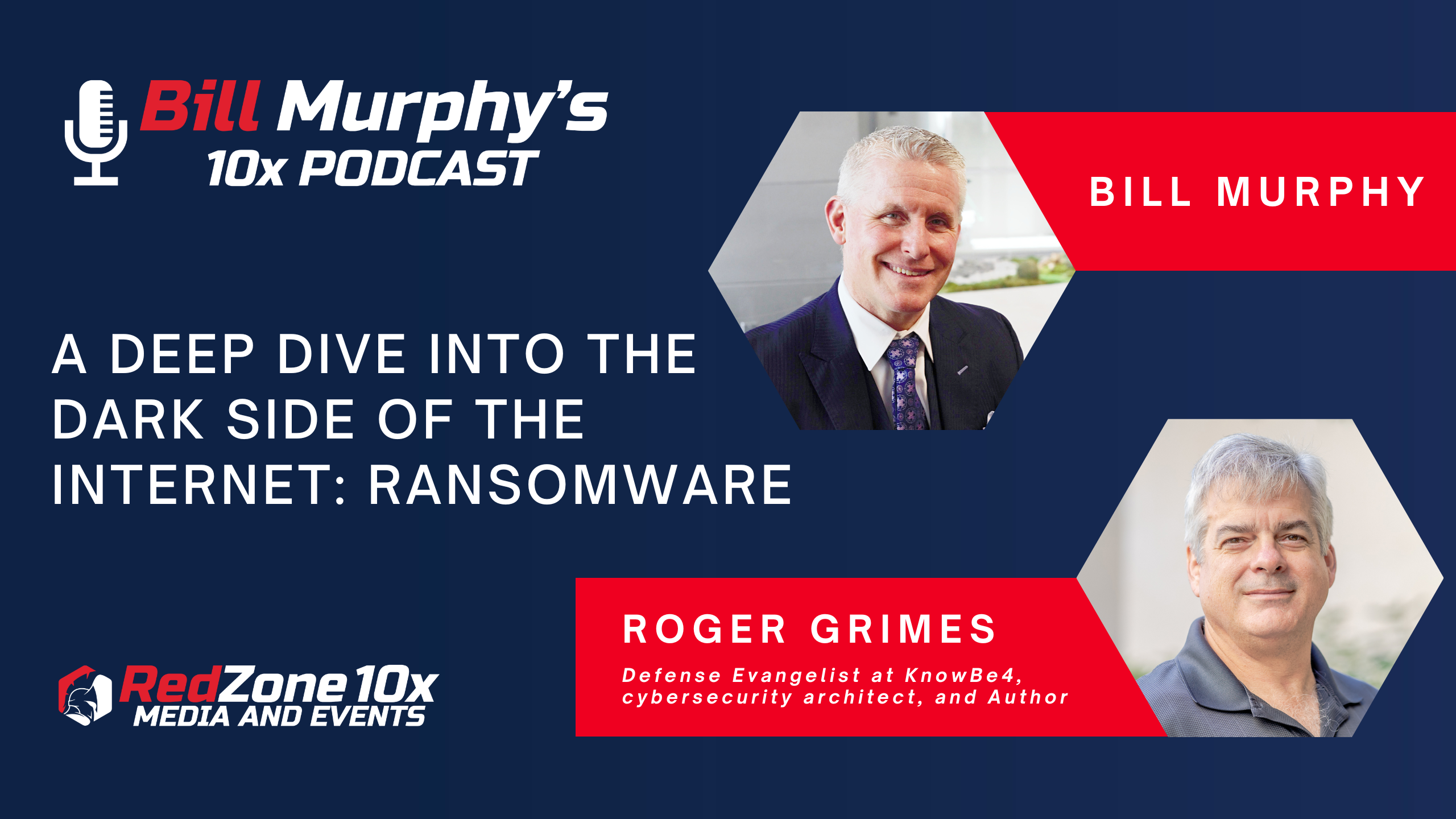 Hello everyone and welcome back. In this episode, we are here with Roger Grimes, Data-Driven Defense Evangelist at KnowBe4, cybersecurity architect, and Author.  
Roger first made his debut on the podcast in 2020, when he unlocked the truth and disproved assumptions about multifactor authentication. We are excited to welcome Roger back to discuss his new book, "Ransomware Protection Playbook," in which he outlines a practical roadmap to protect your networks against one of the most insidious and damaging cyber threats, ransomware! 
In today's episode, learn why the Zero Trust method is the future of computer security and how ransomware attacks better equip companies for future attacks. Be a part of our discussion as we uncover the secrets behind cryptocurrencies, Web 3.0, NFTs, cybercriminal safe havens, dynamic DNS services, network access brokers, and AI bots. 
Are you ready to explore the uncharted territories of the dark web? We sure are. Listen in today. 
As a CIO and Business IT Leader here are some wins you will get by listening:
Roger (6:11): Technological advancements exist that make the internet more secure. Why do people need to agree to and utilize them to prevent cyber-attacks we should've seen coming?

 Roger (8:03): Who is Kevin Mitnick and why is he the most infamous hacker of our time?

 Roger (11:07): The benefit of offensive penetration and how this provides better advice to keep cyber-attacks away.

 Roger (13:10): The truth about cryptocurrencies, Web 3.0, and NFTs.

 Roger (14:00): Secrets behind cryptocurrency transactions and money laundering.

 Roger (18:00): Cybercriminal safe havens do exist! What measures can users take to protect themselves against cybercrime?

 Roger (21:30): How nuclear programs are funded with stolen ransomware and cryptocurrency.

 Roger (22:00): Ransomware on Windows machines checks for coded languages in Russian, Cyrillic, Ukrainian, and other deviations. Learn why setting as a second language on your Windows machines can protect against ransomware.

 Roger (24:00): The ransomware industry is considered the malware industry. Ransomware is a subclass of malware.

 Roger (26:00): The dangers that network access brokers create through secret deals that are happening behind the scenes.

Roger (33:00): What is dynamic DNS services and why is it a solution for fixing the internet's malicious attacks?

Roger (35:00): What is Zero Trust and is this method the future of computer security?

Roger (35:30): "Zero Trust" is a mentality that says we are not going to trust you simply because you authenticated correctly.

Roger (38:30): Cyber threats are increasing due to the automation of artificial intelligence bots.

Roger (51:00): The majority of attacks are client-side attacks that get past the firewall, past the antivirus, and past the VPN. Zero Trust says you don't trust anybody, even those claiming to be Zero Trust.

Roger (52:00): Zero trust is about evaluating a user's behavior and other characteristics. From those behaviors, a rating takes place. If the rating is above the risk threshold, the system aims to block you or will ask for additional information.

Roger (56:30): How ransomware forced companies to be better by revealing to organizations what they needed to be protected from or by showing the great secure backups they had in place. 
Key Resources
Love this episode? Leave a Review 
Share it on your LinkedIn feed.
If you haven't already, please make sure you leave us a review on iTunes.
About Bill Murphy
Bill Murphy is a world-renowned IT Security Expert dedicated to your success as an IT business leader. 
Connect With Us On Social Media
Connect with Bill on LinkedIn.
Instagram
Twitter
Facebook
Join The CIO Innovation Mastermind Community
We invite the top 20% of Business IT Leaders for my CIO Innovation Mastermind Events group to participate in monthly discussions on things like VR, AI, and other disruptive & emerging technologies. If you want to become a member, email Chief of Staff, Jamie Devou jdevou@redzonetech.net for more information.
Subscribe To Bill Murphy's RedZone Podcast