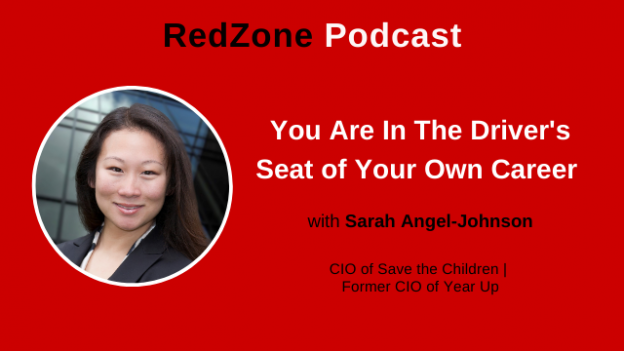 Sarah Angel-Johnson is the CIO at Year Up when this was recorded. She is now the CIO of Save The Children. She was named a 2020 Boston CIO ORBIE Award winner for Non-profit CIO of the Year. She has 20+ years of proven results in being a change agent at scale, starting with coding IBM's first e-commerce website to digitizing the $860 million Girl Scout Cookie Program for 2.1 million girls and adults. She has led global organizations of 150 managers and employees, provided direction to 25,000 matrix team members, managed 7 global labs, and drove $1.7 billion in revenue.
Sarah has excelled when thrown into new situations and asked to lead change within an organization. She realized early on in her career that she could step in and meld different people, processes, and content together in a way that most leaders couldn't.
As a leader, the question of how do I bring people together is an important one. Sarah and I answer this question, share stories, and discuss qualities that are important for a leader to have and how to connect with employees at a deeper level.
It's not enough to simply ask questions. What separates good from great leaders is fundamentally leading with inquiry. Asking open-ended questions, having a genuine interest and curiosity in what motivates people, and having the patience to see everything through are necessary when bringing people together to take action.
In my conversation with Sarah, you will hear how every step in her career has contributed to her overall success and shaped her leadership style. But no matter where her career has taken her, one thing remains the same- a desire to make an impact and help others at scale.
I'm excited for you to hear her story. Let's take a listen.
Here are some of the things that you will learn in this podcast episode:
The value of mentors in shaping career success.
How to retain your talent within an organization.
The importance of self-awareness and how it will lead to seeing your broader purpose.
Influencing people starts with asking what the human need is, and then designing technology around the human.
To find out what truly motivates someone, ask open-ended questions, and create a genuine human connection.
Human-centered design is more of a mindset than anything else.
How to tailor different methodologies for different situations.
Goals are driven by first, creating a shared vision, and then creating a shared mission.
The top 3 offenses and top 3 defenses for 2021.
Finding the perfect work/life integration is a sliding scale as long as you are continually analyzing and digesting for yourself.
How to Connect with this Guest:
Articles referenced in podcast:
2020 BostonCIO ORBIE Award Winners
Transcript:
You can go to the show notes to get more information about this interview and what we discussed in the episode. Click here to download the full transcript.
Love this episode? Leave a Review 
Share it on your LinkedIn feed.
If you haven't already, please make sure you leave us a review on iTunes.
About Bill Murphy
Bill Murphy is a world-renowned IT Security Expert dedicated to your success as an IT business leader. 
Connect With Us On Social Media
Connect with Bill on LinkedIn.
Instagram
Twitter
Facebook
Join The CIO Innovation Mastermind Community
We invite the top 20% of Business IT Leaders for my CIO Innovation Mastermind Events group to participate in monthly discussions on things like VR, AI, and other disruptive & emerging technologies. If you want to become a member, email Chief of Staff, Jamie Luber Jluber@redzonetech.net for more information.
Subscribe To Bill Murphy's RedZone Podcast