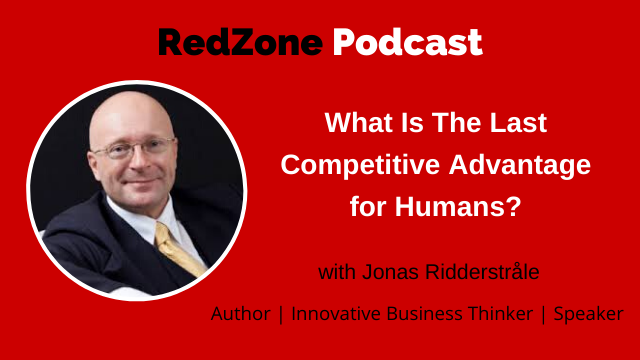 Today I have a great interview with Dr. Jonas Ridderstråle from Sweden. He's one of the world's most influential and respected business thinkers and speakers. Since bursting onto the international scene with the bestselling book Funky Business in 2000, Jonas has remained at the forefront of the new generation of management thinkers.
In 2014, the Global Top 30 Management Gurus ranking put him at number 23 worldwide and among the top five in Europe. He has a PhD in International Business and an MBA. His most recent book, published in 2017 is called, Fast/Forward: Make Your Company Fit for the Future, and was co-authored with Julian Birkinshaw.
So with that, I want to introduce you to my wonderful conversation with Jonas Ridderstråle.
Download the Full Transcript>>
Here are some of things that you will learn in this podcast episode.
How can you reward failure using an MSU (Major

 

Screw

 

Up) Award?
How can you de-risk failure and fear in your company? As the title suggests, What is the last competitive advantage for humans?'
Two methods for increasing your ability to handle paradox.
Why are Nobel prizes now awarded to teams vs. super humans?
How you can re-energize your company with ideas.
As humans become more like Homer Simpson, how can you respond and help your colleagues as well?
Why you need more lovers, mistresses and promiscuity in your business and it's not what you might think.
Why is planning done + over'?
How to learn when exponential growth is real and daunting.
How are Paradoxical Thinking and the Paradoxical Point-of-View instrumental in sharpening our understanding of the big challenges companies face today?
How exponential growth at a social level can lead to more ignorance on an individual level.
Ways to connect with Dr. Jonas Ridderstråle:
Books Published:
I hope you enjoyed this interview with Dr. Jonas Ridderstråle. You can go to the show notes to read the details of what we discussed in this episode.
This episode is sponsored by the CIO Innovation Forum, dedicated to Business Digital Leaders who want to be a part of 20% of the planet and help their businesses win with innovation and transformation.
Love this episode? Leave a Review 
Share it on your LinkedIn feed.
If you haven't already, please make sure you leave us a review on iTunes.
About Bill Murphy
Bill Murphy is a world-renowned IT Security Expert dedicated to your success as an IT business leader. 
Connect With Us On Social Media
Connect with Bill on LinkedIn.
Instagram
Twitter
Facebook
Join The CIO Innovation Mastermind Community
We invite the top 20% of Business IT Leaders for my CIO Innovation Mastermind Events group to participate in monthly discussions on things like VR, AI, and other disruptive & emerging technologies. If you want to become a member, email Chief of Staff, Jamie Luber Jluber@redzonetech.net for more information.
Subscribe To Bill Murphy's RedZone Podcast