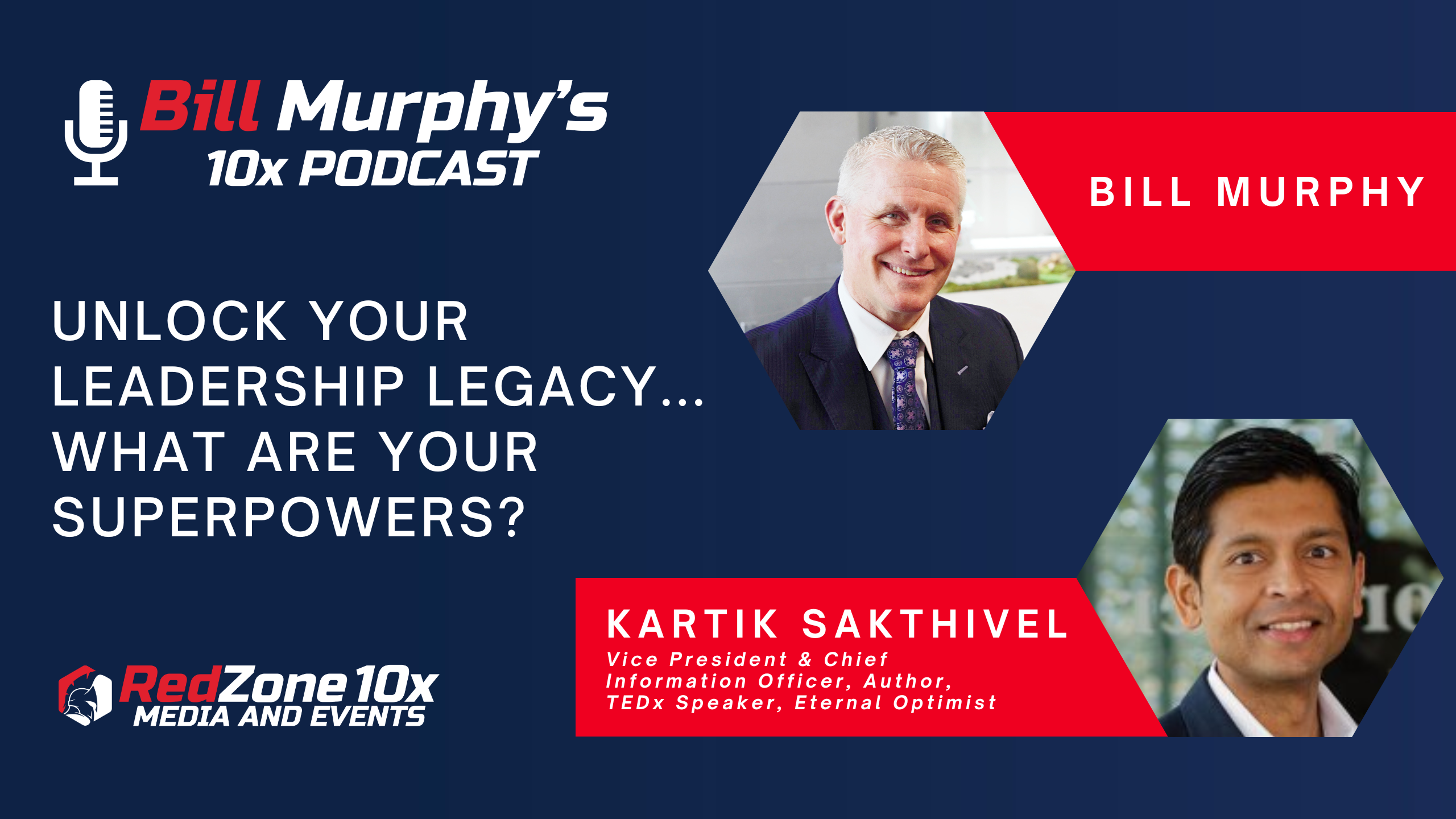 Welcome back to Bill Murphy's 10x Podcast. Our guest in this episode is Kartik Sakthivel, Vice President & Chief Information Officer at LIMRA/LOMA, LL Global, author of "Find Your Red Cape" and comic book enthusiast.  
From Mumbai, India to New Hampshire, Kartik is an eternal optimist and believes in the value, strength, and compounding force that is leadership and why it is so important. Kartik opens up about his book and encourages listeners to seek and understand who they are as leaders, enabling them to unlock their leadership legacy for the world to see.  
In addition, learn how digital transformation, blockchain, and cybersecurity in the insurance industry is advancing and what this means for the new generation of consumers as we approach the 4th industrial revolution. 
Join us today on a quest to discover your superpowers so that we can understand what drives our potential as leaders and in turn encourage others to unlock their leadership potential as well.
As a CIO and Business IT Leader here are some wins you will get by listening:
Kartik (3:05): Always seek to look at the positive side of things, regardless of whether it's a good event or a bad event. Either the situation teaches us something about society or teaches us something about ourselves, which is valuable in developing leadership skills.

Bill (5:48): Our leadership persona is shaped by the people we gravitate towards. Why is it so important to consider who your biggest mentor is and who has encouraged and inspired you along your leadership journey? 

Kartik (9:56): Self-awareness is essential to becoming a better leader. Invest the time in learning who you are, your inner core, and your superpowers as a leader. Do not lose sight of who you are. 

Kartik (13:00): How your leadership persona was forged early in your childhood. Why is leadership a product of what you needed as a leader when you were a child? 

Kartik (15:15): Leadership is about influencing and impacting people positively and being of service to others. 

Kartik (19:35): What does it mean to have a 360-perspective as a leader? 

Kartik (25:39): A deeper dive into why digitization of the entire insurance value chain is fundamentally critical across the industry. 

Kartik (27:26): The insurance industry is on the cutting edge of technology. How digital transformation in the insurance industry is advancing and what this means for the new generation of consumers as we approach the 4th industrial revolution.

Kartik (28:35): Reflecting on the progress of blockchain use cases for life insurance and annuities.

Kartik (31:22): Conversations need to begin with a strong cyber security posture. If not, you are asking for trouble.

Kartik (33:28): "The future was yesterday."

Kartik (34:48): Would you take an air taxi in the future?

Kartik (35:40): For change to occur, we must want to continually learn, and we cannot get complacent.

Kartik (37:57) We all deserve leaders who inspire us to become better versions of ourselves. 
Key Resources
Love this episode? Leave a Review 
Share it on your LinkedIn feed.
If you haven't already, please make sure you leave us a review on iTunes.
About Bill Murphy
Bill Murphy is a world-renowned IT Security Expert dedicated to your success as an IT business leader. 
Connect With Us On Social Media
Connect with Bill on LinkedIn.
Instagram
Twitter
Facebook
Join The CIO Innovation Mastermind Community
We invite the top 20% of Business IT Leaders for my CIO Innovation Mastermind Events group to participate in monthly discussions on things like VR, AI, and other disruptive & emerging technologies. If you want to become a member, email Chief of Staff, Jamie Devou jdevou@redzonetech.net for more information.
Subscribe To Bill Murphy's RedZone Podcast