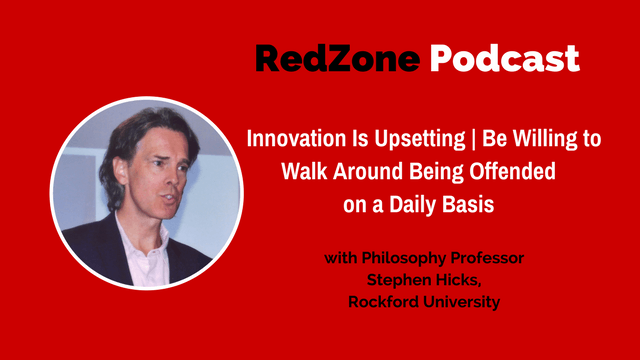 This week my guest is Professor Stephen Hicks, a Canadian-American philosopher.
I have invited Professor Hicks on the show to walk me through important cultural themes that are happening today and why they matter for you and your business. Aside from that, with my daughter going off to university/college next year, I wanted to understand what is being bred in the Universities on a cultural level.
During the interview, Professor Hicks and I take a deep dive into history to trace the rise of post-modernism, and discuss the issue of offense as a weapon in the current social environment. We also talk about business ethics, hiring young talent and structuring your group dynamics as a leader in order to maximize individual thinking in current environment.
I hope you will find this interview fascinating and educational as much as I did. With that, enjoy my wide-ranging conversation with Professor Stephen Hicks!
Download the Full Transcript>>
Major Take-Aways From This Episode:
Learn about the University shift from tradition of classical liberal education with focus on individual and his uniqueness to a post-modern outlook with focus on groups that are fundamental to a person's identity than their individuality.
If you are an entrepreneur/ business leader who has scaled up your business, you are also the chief culture officer and are able to work with people of all different personality types.
Walk through the major epochs and find out what brought us to a post-modern era.
When you are hiring young people out of college that have dramatically different backgrounds, how do you socially manage them working closely with each other?
Post-modernism views involve philosophical argumentation that individuals are either secondary, or ultimately not real.
As a leader, how do you structure your group dynamics to maximize the individual thinking?
Why Professor Hicks' take on ethics in business is a

 

"minority position"?
What is

 

equality of outcomes perspective

 

and why is that an issue?
What are the ways to embrace the new generation that is constantly being offended coming into the workforce and integrate them into society?
Why should you should expect to be offended on a regular basis and develop a thick skin?
Why you should be aware that the broader culture is everything?
About Professor Stephen Hicks
Stephen R. C. Hicks is Professor of Philosophy at Rockford University, Illinois, USA, where he also directs the Center for Ethics and Entrepreneurship. He has published four books and his writings have been translated into fourteen languages: Portuguese, Spanish, German, Korean, Persian, Serbo-Croatian, Polish, Swedish, Hindi, Russian, Ukrainian, Cantonese, French, and Arabic.
He has published in academic journals such as Business Ethics Quarterly, Teaching Philosophy, and Review of Metaphysics, as well as other publications such as The Wall Street Journal, Cato Unbound, and The Baltimore Sun.
In 2010, he won his university's Excellence in Teaching Award. He has been Visiting Professor of Business Ethics at Georgetown University in Washington, D.C., a Visiting Fellow at the Social Philosophy & Policy Center in Bowling Green, Ohio, Senior Fellow at The Objectivist Center in New York, and in 2018 he will be Visiting Professor at the University of Kasimir the Great, Poland.
He received his Bachelor's and Master's degrees from the University of Guelph, Canada, and his Ph.D. in philosophy from Indiana University, Bloomington.
How to get in touch with Professor Stephen Hicks
Key Resources:
More information about Dr. Hicks's courses, publications, and blog can be found at his website:

 

www.StephenHicks.org.
Books:
Love this episode? Leave a Review 
Share it on your LinkedIn feed.
If you haven't already, please make sure you leave us a review on iTunes.
About Bill Murphy
Bill Murphy is a world-renowned IT Security Expert dedicated to your success as an IT business leader. 
Connect With Us On Social Media
Connect with Bill on LinkedIn.
Instagram
Twitter
Facebook
Join The CIO Innovation Mastermind Community
We invite the top 20% of Business IT Leaders for my CIO Innovation Mastermind Events group to participate in monthly discussions on things like VR, AI, and other disruptive & emerging technologies. If you want to become a member, email Chief of Staff, Jamie Luber Jluber@redzonetech.net for more information.
Subscribe To Bill Murphy's RedZone Podcast