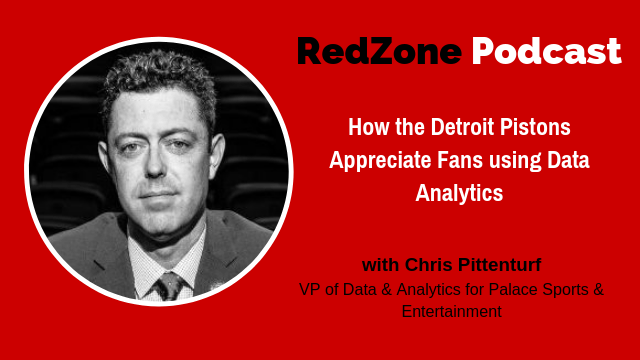 If you enjoy listening to my podcast, please take a minute to leave a review here!
My guest today, Chris Pittenturf, is a Senior Vice President of Information Technology and Analytics at the Detroit Pistons organization.
With nearly 20 years of IT experience, the last 12 leading data initiatives at Palace Sports & Entertainment, Chris Pittenturf has accumulated extensive knowledge in applying cutting edge technology to business objectives. In early 2012 he was tapped by new ownership to lead a newly formed department, Data & Analytics, which centralizes PS&E's CRM, Market Research and Business Intelligence efforts.
Since that time Palace Sports & Entertainment has become an industry leader in applying a sophisticated CRM platform to sales and service operations, using market research to drive marketing decisions and assist with partnership sales, and leveraging analytics to make informed business decisions with an emphasis on real time information and mobility.
What You Will Learn from this Interview:
Lessons he has learned over 10+ years
How to listen to what customers say they want, in context and what their behaviors tell you they want
Importance of creating custom customer experiences
Decisions around Salesforce CRM, Data warehousing, using MicroStrategy as a BI platform
Data Decisions that support or contradict cognitive biases
Learn from past decisions he wishes he had made sooner
Download the Full Transcript>>
Major Take-Aways From This Episode:
Hear a success story beginning with Chris' love of the game of basketball and a dream career that went from being fizzled to sizzling as they married into a career that's better than he could ever have dreamed.
Expect change. After Chris' company, PAL Sports & Entertainment radically changed its business model he was glad to be able to continue supporting the Pistons as well as the entertainment business from a data and analytics perspective.
How being attentive to everything the customer says directly through survey responses, and indirectly through their behaviors and activities, is essential to understanding what they really want.
Chris talks about being able to differentiate between the B2B and B2C customer, and the importance of understanding how each customer relates to the business through a different lens.
The importance of having the pulse of the customer – understanding what they're thinking and where you may be coming up short or where you're doing well.
The customer relationship is dynamic and today's environment A different customer relationship has that the that the relationship with the fans has become much more complicated than it was in the past – including a maturity curve ranging from 0 100%.
Why choosing Salesforce was a win, after some challenges and time spent working to develop their own CRM.
In a small team environment, staffing with people that understand a lot of the discipline, like with data warehousing the structure, the design and the integration and how to move the information, is more effective than hiring highly-specialized individuals.
Business trusting data. Support from the top down can help gain acceptance and partner with different business verticals.
Business is more accepting of data when it supports someone's bias, when you're providing information to somebody that fits what they know.
Business supports the data quickly when it clearly meets a company goal and objective; we have information that can inform whether our success or failure there would be one area.
Learning how to determine what information derived from the data is most valuable to the business objective.
An interesting fact that machine learning is being used to produce algorithms or data sets that can be used to drive decisions on the basketball side.
There are BI platforms that are being developed that are changing the landscape of how we even structure and use our data.
Being involved in different peer groups, within your industry and outside of it, helps you to be more well-rounded as professional in understanding best practices at the enterprise level right down to the small business level.
About Chris Pittenturf
Chris Pittenturf is Vice President of Data & Analytics for Palace Sports & Entertainment, the parent company of the Detroit Pistons, the Palace of Auburn Hills, DTE Energy Music Theatre, Meadowbrook Music Festival, and Freedom Hill Amphitheatre.
Chris and his team in the Data & Analytics department are responsible for Business Intelligence, CRM, and Market Research. The Business Intelligence sub-department has developed many innovative dashboards and mobile applications focused on real-time reporting using Microstrategy for data visualizations that leverage an enterprise customer data warehouse.
Ways to connect with Chris Pittenturf:
Resources and Links:
This episode is sponsored by the CIO Innovation Insider Council, dedicated to Business Digital Leaders who want to be a part of 20% of the planet and help their businesses win with innovation and transformation.
Love this episode? Leave a Review 
Share it on your LinkedIn feed.
If you haven't already, please make sure you leave us a review on iTunes.
About Bill Murphy
Bill Murphy is a world-renowned IT Security Expert dedicated to your success as an IT business leader. 
Connect With Us On Social Media
Connect with Bill on LinkedIn.
Instagram
Twitter
Facebook
Join The CIO Innovation Mastermind Community
We invite the top 20% of Business IT Leaders for my CIO Innovation Mastermind Events group to participate in monthly discussions on things like VR, AI, and other disruptive & emerging technologies. If you want to become a member, email Chief of Staff, Jamie Luber Jluber@redzonetech.net for more information.
Subscribe To Bill Murphy's RedZone Podcast