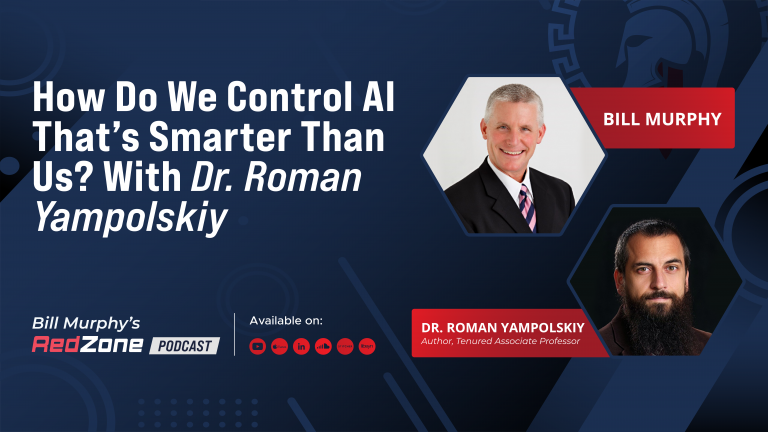 Dr. Roman Yampolskiy is the current Associate Professor at the University of Louisville, Professional Speaker, and Author known for his work on behavioral biometrics, security of cyberworlds, and artificial intelligence safety. I had an amazing conversation with Roman on my podcast a few years ago and am excited to welcome him back to speak with me about his new book, Artificial Intelligence Safety and Security and the recent developments in AI. 
During his 12+ year tenure at UofL, Roman has been recognized as: Distinguished Teaching Professor, Professor of the Year, Faculty Favorite, Top 4 Faculty, Leader in Engineering Education, Top 10 of Online College Professor of the Year, and Outstanding Early Career in Education award winner among many other honors and distinctions. He also won the prestigious 2019 Kentucky Academy of Science "Excellence in Science Education and Outreach Award" and made headlines when he launched the field of Intellectology in 2015 to analyze the forms and limits of intelligence.   
Dr. Yampolskiy has warned of the possibility of existential risk from advanced artificial intelligence, and has advocated research into "boxing" artificial intelligence. Roman's knack for seeing the real-world, practical opportunities that AI and Superintelligence can provide the modern world has propelled his writings to be cited more than 1000 times and featured in the major publications such as New Scientist, Science World, and BBC News. 
Dr. Yampolskiy spoke with me about the finer points of his new book while also providing valuable insight into the future cyber ecosystem, opening up the conversation to the possibility of AGI (Superintelligent AI) existing within our lifetimes. Listen as I speak with Roman about the convergence of AI towards AGI on the physical world, if putting AI safety guardrails around super intelligence is advisable, and which industries will be completely changed by AI.
As a CIO and Business IT Leader here are some wins you will get by listening: 
You can still do really good optimization work without having conscious systems. [4:00]

 

No industry will be able to avoid being impacted or completely changed by AI. [7:30]

 

If AI gives you free labor, how would that impact the value of a dollar? [9:30]

 

The moment AI starts doing R&D and engineering, we lose the ability to predict the future. [10:00]

Many timelines show AGI converging around the year 2045. [11:00]

 

Asking 'How is my stock portfolio going to do after superintelligence?' is a meaningless question. [11:30]

 

Having a safe AI to police and control a better AI is a Catch-22. [13:00]

 

Why create a smarter, better AI to defend against dumber AI's? Just make a better AI. [13:30]

 

The first superintelligence we see will likely be one that we live with for a long time. [15:30]

 

Any sub domain has something to contribute to the AI discussion. [19:00]

 

When superintelligence hits, we'll no longer be the smartest animal around. [21:30]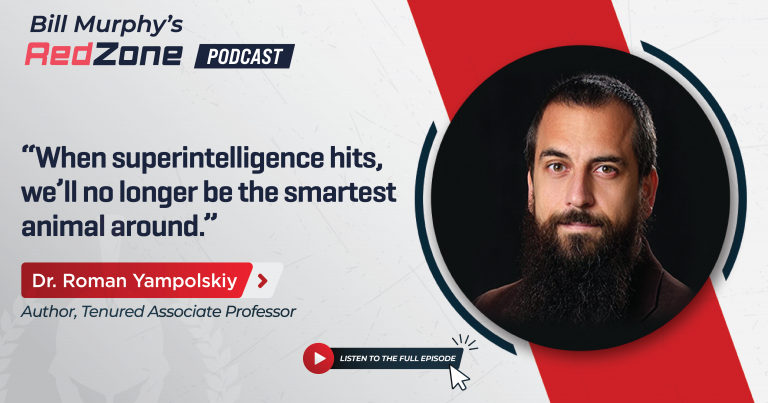 My problem is that I have no idea how to control something smarter than me. [23:30]

 

Physical jobs like plumbers are likely to be the last ones to be fully automated. [26:30]

 

There are people in the jungles hunting with spears while others try to get to Mars. [33:00]

 

One of the biggest problems for AI safety research is the alignment problem. [33:30]

 

AI is shaping our views, our access, and our friends. It's a signal of what's to come. [36:30]

 

Companies like Facebook are more powerful than local governments today. [38:00]

 

I'm sure there is artificial wisdom. Just like there is artificial intelligence. [41:00]

 

If you can define what wisdom is, and what it means to human, I'm sure you can automate that process. [41:30]

 
How to Connect with Dr. Roman Yampolskiy
Key Resources
About Bill Murphy
Bill Murphy is a world-renowned IT Security Expert dedicated to your success as an IT business leader. Connect with Bill on LinkedIn.
If you are interested in learning more about RedZone Technologies, and our security expertise, in particular related to Cloud and Email Security Kill Chain Strategy, Techniques and Tactics you can email cloudkill@redzonetech.net. 
Love this episode? Leave a Review 
Share it on your LinkedIn feed.
 If you haven't already, please make sure you leave us a review on iTunes.
Subscribe To Bill Murphy's RedZone Podcast