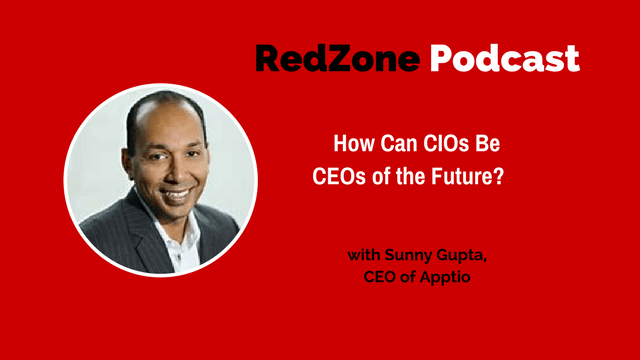 This week my guest is Sunny Gupta, CEO of Apptio. I looked into Apptio software used by a previous podcast guest Bob Fecteau, CIO of SAIC. I had to check it out because I got to see what Bob was dealing with and why Apptio added such a tremendous value for his business.
During our interview, Sunny shares the story of Apptio's genesis and I think every CIO can learn from it. It is fascinating how Sunny was able to take a problem of one CIO and reconstitute it into a solution set that ultimately addresses all today's CIOs and their challenges.
I thought, many of you are constantly solving problems for other departments within your business, but what about yourselves? How are you, the CIO, solving your own enterprise resource planning?
You will find this interview useful if you want to learn how to build transparency, trust and confidence and have a seat at the table. Sunny and I also talk about defense and offense, comprehensive IT, vendor, cloud spending. I believe that this type of approach to bringing IT together would only work today. Many of you, CIOs, are at that point where you are looking to up level your skills as leaders, as Sunny put it, CIOs are technologists wanting to be business people without going to business school.
Listen to this interview to get practical advice on how to gain visibility into your IT cost management and find out how Apptio is collaborating with IT leaders today to achieve that.
Download the Full Transcript>>
Major Take-Aways From This Episode:
Story of Apptio

System of Record for IT that came out of the need to manage business, analytics and decision-making for CIOs.
Listening to the customers and morphing, changing execution plan based on hearing from CIOs, gave Apptio its start and growth.
Apptio as an "ERP for CIO" helps IT Leaders become more business-oriented.

Technology Business Management System as a Market

Apptio's standardization function is explained.
Apptio as a framework of language and transparency.
Technology Business Management Council is a non-profit organization created by Apptio and dedicated to industry standards and an operating model for CIOs.
What role does Apptio play with the speed of change? How Apptio helps CIOs innovate and dive into transformation projects?

How is Apptio helping CIOs win with their business? Practical advice for CIOs on how to get started.

Apptio solution helps to get granular transparency into CIO services and products spending and uses it to create an offense dialogue with the business.
Automating your existing budget, planning, financial management discipline.
Categorizing the vendor's spending fine optimizations.
Getting control of your Cloud spending.
How to get in touch with Sunny Gupta
Key Resources:
Love this episode? Leave a Review 
Share it on your LinkedIn feed.
If you haven't already, please make sure you leave us a review on iTunes.
About Bill Murphy
Bill Murphy is a world-renowned IT Security Expert dedicated to your success as an IT business leader. 
Connect With Us On Social Media
Connect with Bill on LinkedIn.
Instagram
Twitter
Facebook
Join The CIO Innovation Mastermind Community
We invite the top 20% of Business IT Leaders for my CIO Innovation Mastermind Events group to participate in monthly discussions on things like VR, AI, and other disruptive & emerging technologies. If you want to become a member, email Chief of Staff, Jamie Luber Jluber@redzonetech.net for more information.
Subscribe To Bill Murphy's RedZone Podcast