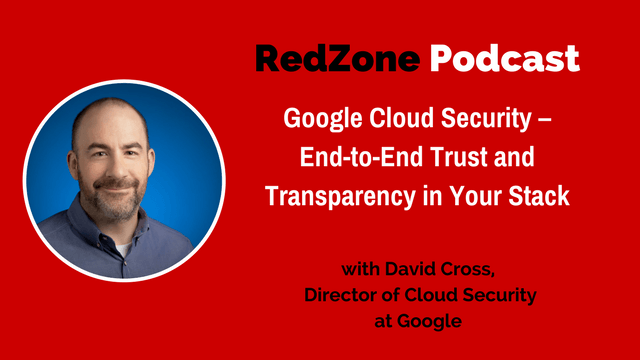 My guest this week is David Cross and it is my second discussion with him. I loved talking to David when he was on the Microsoft side of the fence. Two years later, he is on the Google side of the fence as a Cloud Security Engineering Director, and I decided to bring him back on for another fun conversation.
We discuss Google's on-premises Solutions, Data Custodian Model (SAP), the story behind BeyondCorp, Google's beta product, called Identity-Aware Proxy and much more. Our conversation is a deep dive into IT Security and highly technical… Regardless of your title within IT Security realm, you will benefit from this conversation.
Download the Full Transcript>>
Major Take-Aways From This Episode:
Google's beta product –

 

Identity-Aware Proxy

 

(IAP) service,
BeyondCorp Model

 

at Google and Anti-Phishing,
Importance of two-factor authentication;

 

U2F Security Keys,

 

FIDO U2F Protocol,

 

OAuth,
YubiKeys

 

– security keys for two-factor authentication,
Gsuites

 

– Gmail, Docs, Drive and Calendar for business, everything in one package,
Building trust in cloud service provider (Google 9 layer stack)
Data Custodian Model at Google

access transparency, 

identity and protection 

Google Cloud Blog

 

article about Google's custom chip Titan.
About David Cross
David is the Cloud Security Engineering Director in the Google Security and Privacy organization. David is a long time innovator of security technology stemming back to US Navy service with the aviation electronic warfare community and his previous 18 years spent with Microsoft in numerous security product and engineering leadership roles. In addition, David has been a contributing author on a number of whitepapers and Microsoft Press books regarding security and PKI. David holds a B.S. in Computer Information Systems as well as an MBA in MIS.
How to get in touch with David Cross:
Key Resources:
Love this episode? Leave a Review 
Share it on your LinkedIn feed.
If you haven't already, please make sure you leave us a review on iTunes.
About Bill Murphy
Bill Murphy is a world-renowned IT Security Expert dedicated to your success as an IT business leader. 
Connect With Us On Social Media
Connect with Bill on LinkedIn.
Instagram
Twitter
Facebook
Join The CIO Innovation Mastermind Community
We invite the top 20% of Business IT Leaders for my CIO Innovation Mastermind Events group to participate in monthly discussions on things like VR, AI, and other disruptive & emerging technologies. If you want to become a member, email Chief of Staff, Jamie Luber Jluber@redzonetech.net for more information.
Subscribe To Bill Murphy's RedZone Podcast