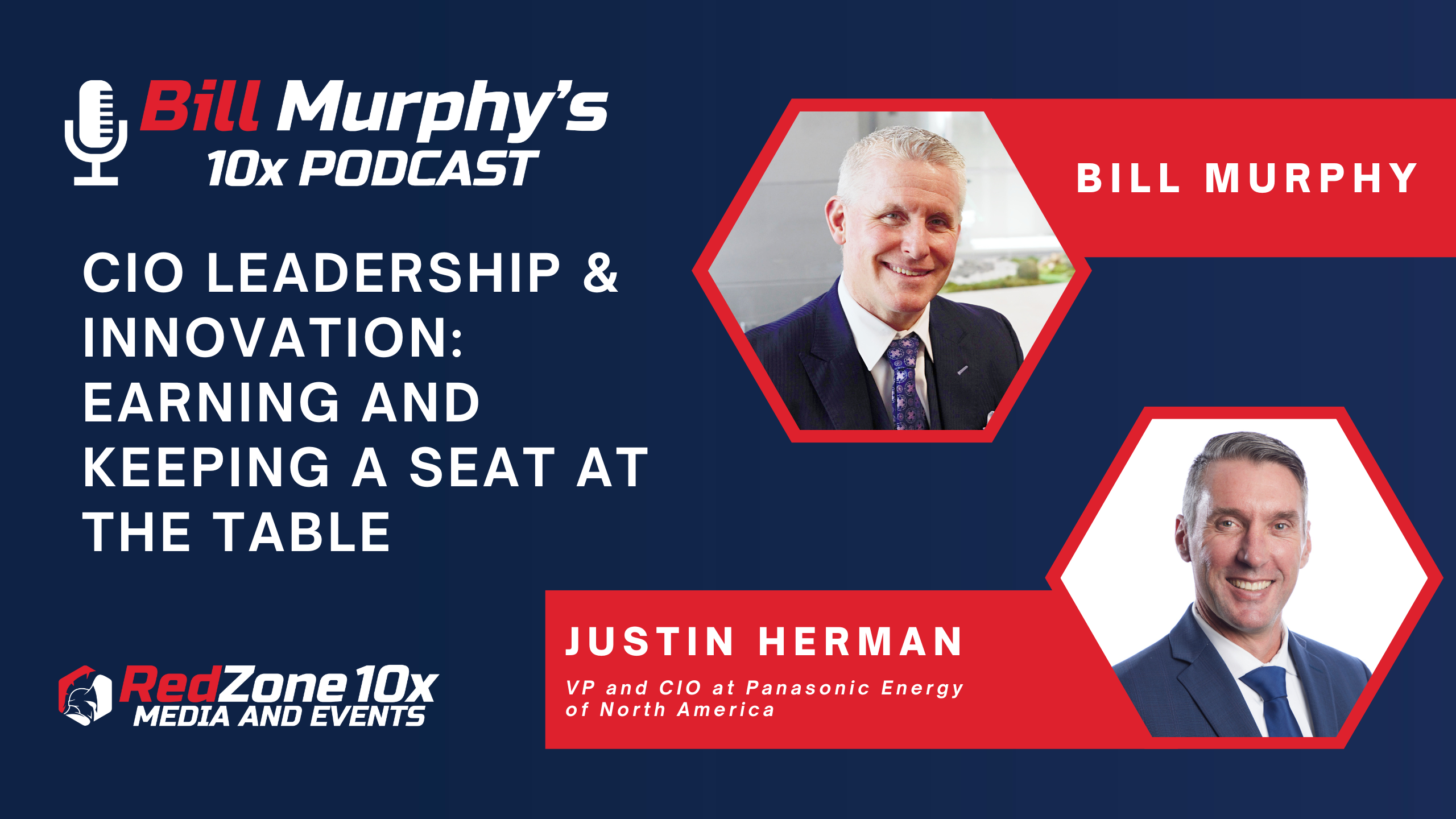 On this episode, I am joined by Justin Herman, VP and CIO of Panasonic Energy of North America. Starting  out as an IT Manager for Coca-Cola Bottling Co., he worked his through the ranks in manufacturing and eventually moved from South Africa to the United States.  
Presently, Justin leads the technology division for Panasonic Energy at their Gigafactory out of Sparks, Nevada.
More Key Wins and Takeaways for You: 
How to Show Business Partners the True Value of IT 

 

Speed and Agility for Innovation:

"T

he way we innovate within the Gigafactory is unlike anything I have personally seen on the manufacturing side. We've been here for about six years now, so basically, we're a startup and we continue to think as a startup. We're a 100-year-old company that thinks like a startup."

 

The Power of a Mission Driven Company:

B

uilding a world of cleaner energy.

 

How to Use Fusion Teams:

Bu

ilding your speed and agility significantly while transforming your innovation.

 

How to use the Ontological layer

of your business coupled with AI and ML to transform your business, processes and speed of innovation. 

 

How to Select the Right Edge, Cloud, Hybrid Cloud Partners for You

 

How to Achieve and Keep Your Seat at the Table

 

Justin's Superpower of 'Active Listening:'

"S

tep back, listen, and understand the pain points. Bring those notes back home in a quiet space and reflect on them."

 

The Value of Mentorships

 
As a CIO and Business IT Leader here are More wins you will get by listening:
(3:00) Bill: "What's the change that's happening in manufacturing?"

(3:57) Justin: "Our business leaders have really brought the IT leaders into their decision-making because they understand the role we play and how we can create those efficiencies within multiple facets."

(4:18) Justin: "As we innovate, and as new technologies come on board, we're able to sit down with our business partners and show true value."

(6:13) Bill: "What is a Gigafactory?"

(8:19) Justin: "Failure to innovate will put you at a competitive disadvantage."

(8:22) Bill: How do you do that with a legacy business?"

(8:42) Justin: "We believe the future is in energy and it is our mission to go and change the world through cleaner energy."

(13:27) Bill: "What does the ontological layer mean regarding ML and AI and Gigafactories?"

(15:52) Bill: "How you went about the journey of finding the right partner?"

(16:55) Justin: "Take a step back, understand your business, the data, and most likely what you're going to end up with is a hybrid model."

(18:20) Bill: "How do you focus on the 80-20 principle?"

(18:45) Justin: "Having a seat at the table is extremely important."

(21:08) Bill: "What skills did you come to need to have set in-house?"

(21:42) Justin: "There's always a balance between your FTEs in-house and your managed services that you use externally."

(24:20) Justin: "Being able to sit and communicate to your business leaders and talk to them in a manner they understand while taking a step back to actively listen."

(26:48) Bill: "What books have been the biggest impact for you?"

(29:45) Justin: "Never pass up an opportunity to keep quiet."

(32:18) Justin: "How people are looking at security nowadays…invest in people as a number one firewall."

(35:39) Justin: "Take it in, learn, listen, because everything you're doing today is going to provide the opportunities that you're going to get tomorrow."

(36:17) Justin: "We all as leaders have a responsibility to give back. Let's train the leaders of the future and let's help them as well."

(36:46) Bill: "All leaders need to be looking and surround themselves with the five people that are not necessarily their peers but are in front of them a little bit."

(37:20) Justin: "As technologists, it is our responsibility to push the envelope, to get a seat at the table with our business partners to help innovation. Let's try to create a cleaner energy environment through technology." 
Key Resources
Love this episode? Leave a Review 
Share it on your LinkedIn feed.
If you haven't already, please make sure you leave us a review on iTunes.
About Bill Murphy
Bill Murphy is a world-renowned IT Security Expert dedicated to your success as an IT business leader. 
Connect With Us On Social Media
Connect with Bill on LinkedIn.
Instagram
Twitter
Facebook
Join The CIO Innovation Mastermind Community
We invite the top 20% of Business IT Leaders for my CIO Innovation Mastermind Events group to participate in monthly discussions on things like VR, AI, and other disruptive & emerging technologies. If you want to become a member, email Chief of Staff, Jamie Devou jdevou@redzonetech.net for more information.
Subscribe To Bill Murphy's RedZone Podcast