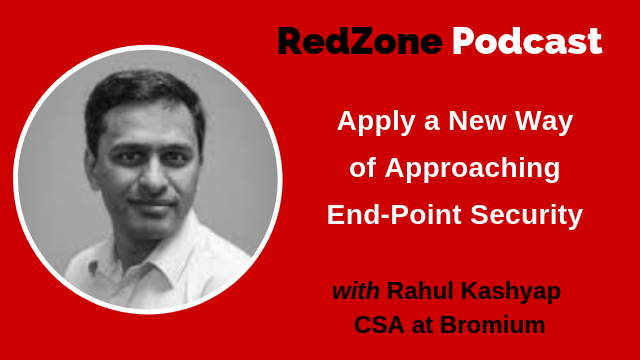 In this episode, I interview Rahul Kashyap, Chief Security Architect and Head of Security Research at Bromium, a company that focuses on stopping cyber-attacks where users are most vulnerable—the endpoint—through virtualization isolation. One of Silicon Valley's 40 Under 40, Rahul has built a career around developing cyber defense technologies that focus on exploit prevention. At Bromium, Rahul manages R&D and product security, while simultaneously conducting robust industry outreach, speaking at leading security conferences including BlackHat, BlueHat, Hack-In-The-Box, RSA, DerbyCon, BSides, ISSA International, OWASP, InfoSec UK and others.
Time Stamped Show Notes:
02:00 – Rahul joins to the show
02:41 – Talking about the

 

40 Under 40
03:30 – The importance of being "unstoppable"—no one believes in you at the front-end—you need to be relentless in your confidence and determination

04:47 – The genesis of being "unstoppable"

06:05 – The importance of taking on big challenges versus small challenges—Rahul's Gandhi example
06:43 –

 

We are a function of the problems we choose
07:25 – Even when you don't hit the target when you take on a "big challenge" when you fall, you'll fall somewhere along the path and that's a great place to be
07:55 – The problems Bromium tackles

08:34 – Attackers have found a soft-spot—the end users—and all it takes is one bad click
09:12 – Attackers have nothing to lose, and end-users will continue to make mistakes
09:44 – No one can build the perfect security engine—it's impossible

10:15 – The key is not worrying about users making mistakes, or attackers attacking—the key is isolating the attack at the end-point and confining it there
13:25 – Bromium focuses primarily on desktops, laptops, and tablets
14:00 – Micro-virtualization is at the executable side
14:46 – Rahul defines Bromium Labs
16:09 – Defensive security versus offensive security

16:52 – Every security company should invest in offensive security because it most accurately resembles how hackers think
18:23 – Offensive security gives you the Why
18:44 – Defensive security gives you the How

20:04 – Anti-Virus is approximately 5% effective

20:30 – It has lost its efficacy because the technology—in principle—hasn't evolved

22:45 – Bromium Labs' first focus is to keep your network from getting infected in the first place
25:35 – Does Bromium need to be run in isolation or can it bundled into the software stack at the end-point?
26:49 – The security architecture behind managing disparate end-points
28:02 – Bromium's pre-deployment analysis tool is under development but will launch soon
28:28 – Bromium's partnership with Microsoft for Windows 10
30:33 – The frequency of patching has become SUCH a burden for small business, which is why Bromium developed a unique position towards patching
32:15 – Patching is

 

often

 

human error related
33:48 – It's a new way of doing security—isolation versus prevention
34:16 –

 

Sandboxing, Hardware enforced isolation,

 

micro virtualization
35:18 – Most of your browsers already have a sandbox
36:55 – Companies are

 

tired

 

of investing in so many security products…the industry is too fragmented—Bromium is looking to change that
38:08 – It's vital to understand the architectural limitations of each technology
38:55 – Rahul's favorite

 

new

 

technology?—Hive

 

which is exploring the intersection between big data and security
40:48 – Rahul shares his thoughts on machine learning and A.I.
42:33 – Rahul has taken up kayaking to manage stress and stay focused…and Call of Duty on X-Box One
4 Key Points:
We are a function of the problems we choose—an important concept to live by.
The true soft-spot in today's cyber-security market is the end-user—end-users always have, and always will make mistakes that result in compromised systems and networks.
It is

 

impossible

 

to engineer a perfect security system—the threats change to rapidly—instead of trying to focus on prevention, let's focus on technologies that accept attacks as the inevitability they are…technologies that let an attack happen, but isolate it

 

immediately

 

at the end-point.
The cyber-security business (like most businesses) can be extremely taxing—find an outlet for healthy stress management.
Key Resources:
Love this episode? Leave a Review 
Share it on your LinkedIn feed.
If you haven't already, please make sure you leave us a review on iTunes.
About Bill Murphy
Bill Murphy is a world-renowned IT Security Expert dedicated to your success as an IT business leader. 
Connect With Us On Social Media
Connect with Bill on LinkedIn.
Instagram
Twitter
Facebook
Join The CIO Innovation Mastermind Community
We invite the top 20% of Business IT Leaders for my CIO Innovation Mastermind Events group to participate in monthly discussions on things like VR, AI, and other disruptive & emerging technologies. If you want to become a member, email Chief of Staff, Jamie Luber Jluber@redzonetech.net for more information.
Subscribe To Bill Murphy's RedZone Podcast